The marketplace world experiences dramatic changes. Global services have started to lack customization. While the local marketplace operators come forward and prevail over the global leaders of marketplaces, they have a more clear vision of their market and its culture and support close relationships with sellers. At the same time, the customers want to support and feel connected to their local businesses and communities.
In this article, we will reveal the tendencies and challenges of local marketplaces, analyze our example of such a marketplace, and explain the main things you need to know before starting a local marketplace.
What is an Online Marketplace?
The marketplace is a platform that allows other sellers to sell their products for a fee. Marketplaces often invest money in promoting their site, so they have a lot of traffic and, therefore - customers and partners who want to take advantage of marketplace opportunities.
There are five main types of online marketplaces:
Horizontal marketplace offers different products with similar characteristics
Vertical marketplace displays the same type of products from different vendors
Hyperlocal marketplace includes a local business marketplace
Hybrid marketplace offers a model when the marketplace owner sells their products together with other vendors
Global marketplace provides all kinds of products from different suppliers.
The marketplace model allows you to quickly expand the range of goods or services (this is especially important now when the life cycle of goods is low - in electronics, for example, the range can be updated by 30% annually). With the help of the marketplace, eCommerce can even develop the categories without specific expertise of the goods. It means you don't need to understand the bicycles to sell them on your platform.
Another advantage of marketplaces is that they give an incredible leap in traffic, as you have a considerable number of product cards. It is essential for those projects that are stuck in their traffic limit.
While glocal marketplaces like Amazon and eBay sell across Europe and USA, most local players are focused on just one country or a small number of closely related neighboring countries. When it comes to eCommerce, a significant part of the market in Europe is divided along the geographic and language lines, despite the common currency, open borders, and thousands of common rules.
These differences extend to the overall growth of online shopping in Europe. There, Internet retail accounts for 16.2% of total retail. In Germany, this figure is 19.9%, and in Italy - only 6% - less than a third of Germany's share. Online shopping has become popular in some European countries, but differences in payment systems, delivery networks, culture, and language mean that other marketplaces are far behind.
Challenges of Local Marketplaces
In addition to large popular marketplaces, there are also local platforms that specialize in one type of product and work with a narrow niche of consumers. They began to develop more actively, trying to satisfy buyers' demand for high-quality and fast online sales. There are other challenges of local marketplaces that you need to be aware of before starting your own.
Data security. The danger of data leakage is almost at the top of unpleasant customer experiences. Properly executed customer service must have access to unique customer data, so teams must make efforts to keep this data secure.

Customer loyalty. In today's digital world, many customers use social media to share opinions, ask questions, and contact companies directly. The global marketplaces earned customer loyalty that is hard to reach for a local marketplace. You need to respond quickly to requests and work together to find solutions to any situation. Being considerate of your customers is an important step in gaining loyalty.

Unexpected price increases. It is enough to make a mistake with prices, the level of demand, placement of certain categories, as you will find yourself in constant price cuts, promotions and discounts, non-targeted requests, and the buyers passing your marketplace.

Delivery services. The delivery process of some marketplaces involves spending time on additional processes: product examination, checking for compliance with the declared characteristics, packaging, etc. As a result, the delivery time of the goods to the client may take several days. It can be an issue for a local marketplace, as your clients can choose more popular solutions. If your marketplace is experiencing a similar challenge, try to tell your users in detail about the workflows that cause them to wait longer.

In-house or outsource team. Choose developers carefully, as your choice determines the successful result. If any team members doubt the viability of the project and do not share your values, say goodbye to them as soon as possible. A person who does not believe in the product's success will become the weak link of a startup and is unlikely to cope with his role. Starting a business, be prepared that the original team may be completely changed in the process.

Economic uncertainty. The economic situation can be unstable and depends on many factors you can't affect. Sometimes it's impossible to predict a financial crisis. You need to constantly observe the market volatility, a possible recession, and the situation in the country at different levels. Review your suppliers, look for alternatives in case of price rise, and double-check your money makers.

Stockouts and inventory overload. The online marketplace owners place the goods on the marketplace and can leave the inventory in warehouses. And it can turn out that illiquid products grow costs and reduce profits. With a cheap product, as a result, we will have to pay an amount exceeding its cost.

SEO mastery. It can be difficult for new marketplaces to enter the market: there is not enough good or there is a lack of reliable contractors and suppliers. Research the SEO strategies, focus on your instincts, and overcome problems one by one - they will never be less than now. But determination and faith in success can bring its results.

Returns, refunds, and fulfillment. The return policy needs to be clear for your customers. Customers check return policies before making a purchase. And even if it's fine, some broken or damaged product can damage your reputation. So it's better to set this process from the very beginning.
Why are Local Marketplaces Getting Popular?
Local marketplaces solve real problems. Based on the real situation and analysis of the needs in your society, you can create a marketplace that can offer different kinds of goods and services specifically needed in your environment. It can be food, furniture, electronics, or books - something that you see people look for. You can be surprised by how many goods choices vary by country and region. As local marketplaces understand cultural sensitivity and habits, they can use this advantage and connect more with potential customers by creating the value proposition with the right message.

Better knowledge of customer needs and habits. It's easier to know the preferences of people who live in the same social community. An extensive IT toolkit also helps with this, including technologies for studying user behavior and processing large amounts of information. In fact, this helps to adapt the entire process of interaction with Machine Learning to the individual needs and habits of the user. For this, careful study of UX / UI is also important, which largely determines visitors' user experience.

Offers an exclusive networking opportunity. Buying and popularizing the local services allow unique networking for businesses. Choosing the goods from different companies inside your community results in new connections, collaborations, special offers and discounts, promotion of each other's brands.

Can be more native and familiar for regions and cultures. You can launch your application with your own delivery in your specific region for a reasonable amount. The customers want to support and feel connected to their local businesses and communities. Small shops want to be seen locally. It's more convenient when you just go to the free market, download the application, get the sales, notifications and get the product you understand.

Can have a bigger number of integrations. Marketplace integration is a must-have for any business. The local marketplaces have more resources and freedom to use as many integrations as possible to win over the competition. The major integrations include dashboards with records and figures, real-time inventory updates, automated synchronization, centralized order management, multiple seller account support, automatic shipment and tracking, automated notifications, etc.

Predictable income. Estimating many factors, like investments, resources, team salaries, the economic situation in the country, and your year's revenue, it's easier to predict your income if your marketplace is local.

Can be fully implemented with low and no-code platforms. Starting your delivery service isn't as difficult as it was before. The software part is not so expensive and long now. You can use libraries (for example, Flatter has 3-4 libraries that work with maps), payment systems, payment getaways, logistics, cryptocurrencies (if government regulations allow) that make it possible to create a marketplace at an acceptable time and reasonable price.

They advertise themselves and have loyal clients. A client often comes to a local marketplace with an already formed request. Usually, such clients clearly know what they want and do not make impulsive and spontaneous purchases. It, among other things, helps the local marketplace to set up ads in the future correctly. Advertising for a specific target audience is cheaper than mass promotion for everyone.

Helps In discovering inventory first. Suppose you researched the audience and found out the people are starting to look for specific products. In that case, you can search local services before your potential customers reach out to Amazon or eBay.

Creates a sense of local pride. For most countries, creating local marketplace results in pride from sellers and customers. People feel proud to support the businesses created on their land, producing something made by local people and delivering quality services. The sellers are proud to create local goods and succeed in this in the face of global competitors.

Adapts quickly to local economy and needs. The local marketplace tends more to adapt to the changes of society. They can see the problems and economic needs as they relate to them. They share the same views and can understand the roots of the customer's needs and concerns. To create the best deal, you need to know the market situation, countries' regulations, norms, and the network organization.

More organized inventory management. The local marketplaces are experts in their products or service. All employees have the expertise, including couriers and support staff. That is why they help consumers find precisely the product they need. It minimizes the possibility of a return, which increases the load on the delivery service.

Explore products efficiently and use new technologies. The local markets have more resources to try new technologies for their customers. For example, augmented reality is gradually becoming our everyday reality. A client who can see in advance how a piece of furniture will look in his apartment or how a dress can fit most likely will not return the product. Also, it is possible to use Machine Learning models to predict your customer wishes or use NFT for tickets or documents.

Make initial categories for your community. The global services lack customization. When you have your application, you can make it on your own. You don't need to compete as the rating system exists only in the marketplace. While creating your kind of marketplace, you can compete more honestly, for the general rating.
One of the reasons that local marketplaces tend to dominate is their innate cultural sensitivity and deeper understanding of local consumer habits and needs.
The Best Local Markets in Europe
In Europe, the eСommerce market is worth over $400 billion in revenue, with an expected annual growth rate of 7.3%. According to experts, at the end of 2022, the volume of the European market will be more than 600 billion dollars.
Amazon and eBay continue to lead the market in continental Europe, as well as in the US and UK. But if you look for other local options, you can see a considerable number of alternative online platforms: all of these are European marketplaces of various sizes.
The localized marketplaces have the advantage in Europe. Most of all activity in the local online marketplace exists in such countries as the UK, Germany, and France. However, our list also includes other European marketplaces.
| Great Britain | Fruugo | Initially comes from Finland. But the marketplace, founded in 2006, is now a British company. Retailers only pay when they make a sale, so there are no membership or subscription fees. |
| --- | --- | --- |
| | OnBuy | UK-based marketplace launched in November 2016. The website brings together over 3,000 sellers and 8 million buyers and requires a 5-9% sales fee and a 1.9-3.4% PayPal payment fee. |
| Germany | Real.de (Kaufland) | Real supermarket chain has merged with Kaufland.de to become the 3rd largest online marketplace in Germany. With 19 million monthly visitors, real.de hosts more than 12 million products. On Real.de, sellers must pay a monthly fee of 39.95 euros and a percentage depending on the product category |
| | Otto | This online hypermarket has over 1.8 million items from around 7,000 brands. Sellers who wish to sell products through Otto's online marketplace must pay a one-time registration fee of €10,000, with commission rates ranging from 15% to 50%. But they don't need to pay a monthly fee. |
| | Zalando | Initially, it worked as an online fashion store selling items of various brands, but it turned into a marketplace over time. Their partners must offer free returns guaranteed for 100 days. |
| France | Cdiscount | The French marketplace Cdiscount was founded in 1998 and started as an online store selling technology and consumer goods. Today, the Cdiscount marketplace has 12,000 sellers and about 9 million active customers. Sellers must pay €39.99 per month plus sales commissions, depending on the type of their goods (5% or more). |
| | Conforama | Conforama is one of the largest European furniture and home furnishings retail marketplace in 2016. It provides about 1.5 million active offers of various products on the marketplace. Sellers do not pay a monthly fee. The commission depends on the product category and the selling price of the product, plus shipping costs. |
| | Fnac/Darty | French marketplaces Fnac and Darty are combined electric retail companies. In 2014, Fnac launched its marketplace, where it sells both its products and third-party suppliers. Fnac and Darty have 36 million active customers and are high-tech appliances and home goods leaders. The monthly subscription price for merchants is €39.99, plus sales commission. |
| Netherlands | Bol.com | The Dutch marketplace Bol.com, which started as a Bertelsmann project, has been the largest in the Netherlands for many years. This is partly due to the thousands of sellers joining the platform and offering 16 million items. There are no monthly fees or registration costs, but sellers must pay a commission for each sold item through Bol.com. The commission is from 5% to 17%, depending on the category. |
| | Beslist.nl | The Dutch marketplace Beslist.nl started as a price comparison system but can now be considered an online marketplace. The marketplace website attracts around 4 million visitors each month and doesn't require a monthly sale fee. Sellers must pay a commission on the item sold, ranging from 1% to 15%. |
| Belgium | Storesquare | The Belgian marketplace Storesquare allows 500 retailers to sell 1 million items. Retailers do not pay registration fees but must pay Commissions for each product sold (5% and 15%). They also need to pay a transaction fee of €1 per order. |
| | Vanden Borre | The Belgian marketplace Vanden Borre is a multi-channel online consumer electronics. It has about 10 million visitors every month. Selling on Vanden Borre requires a monthly sale fee of €39.99 and a commission for each product sold ranging from 8% to 14%. |
| Italy | ePrice | In 2015, the Italian online store ePrice opened its marketplace. Third-party sellers pay a €29 subscription fee and a 5% to 8% commission on transactions only, depending on the product category. You can cancel subscriptions at any time without any commitment to duration. |
| Sweden | Fyndiq | Sellers can apply for a free account without monthly or registration fees. Fyndiq attracts 2 million visitors every month. Today there are about 1700 active sellers registered there. |
| Poland | Allegro | The Polish marketplace Allegro was founded in 1999 as an online auction site. Over 125,000 retailers have signed up to sell over 1 million items in total. Sellers are allowed to sell new as well as used items. Depending on the number of successful sales, they need to pay a listing fee, a sales commission, and a percentage of all commissions. |
| Portugal | Worten Online | The company started as an electronics retailer (the first store opened in 1996) but has evolved into an online marketplace. Worten allows third-party merchants to sell their products on the platform. In June 2019, the Portuguese company launched a similar website Worten.es in Spain. |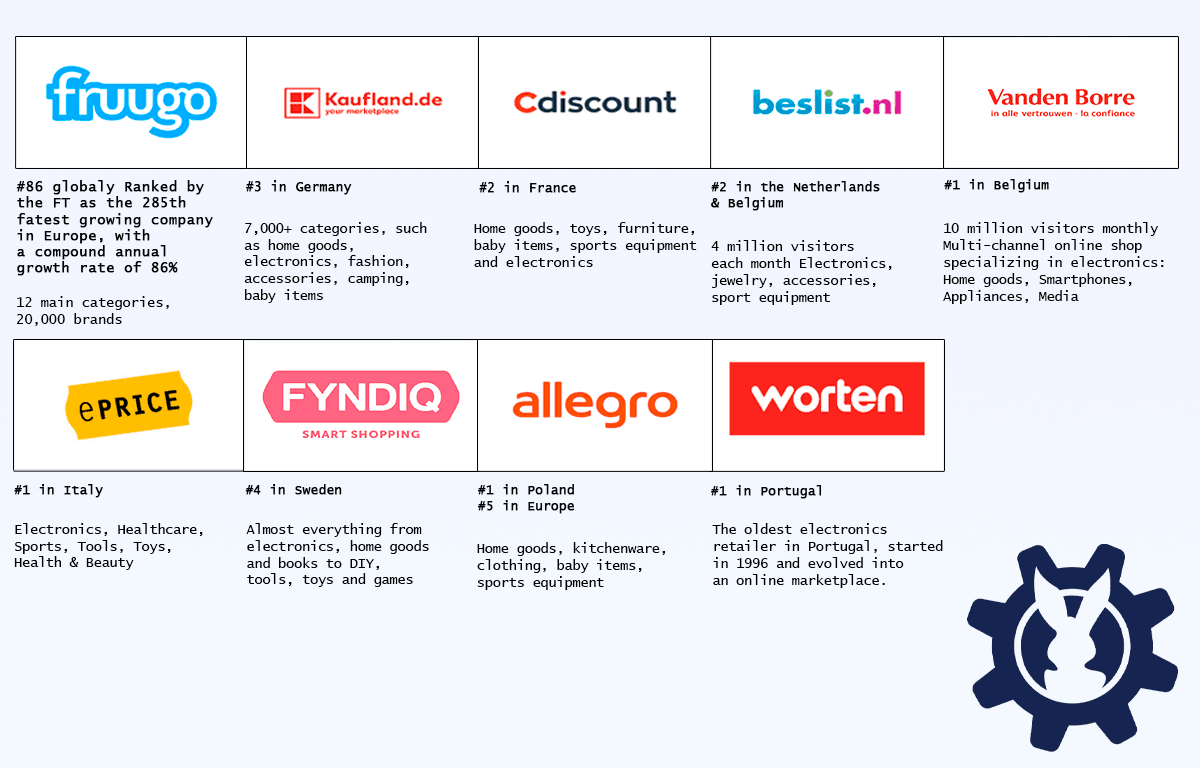 RabbitPeepers Case Study
In our practice, we experienced creating a local marketplace of grocery products for a client from the United Arab Emirates. For that, we analyzed a local grocery market and target audience and found out that:
The majority of grocery shoppers shop regular purchases (offline and online) 1-2 times per week (28% ), while ad hoc purchases 1-2 times a month (30% )
The majority of online shoppers order 1-2 times a month (37%).
The majority of grocery shoppers have a regular basket size between AED 201 - 300 (22%), while the ad hoc one is between AED 51-100 (25.5%)
Main reasons for online shopping is time savings (43%), 24/7 availability (34%) and convenience (33%) while the main reasons that speak against it are being able to see physically the products, which might be related to trust/quality issues.
Most important factors for online grocery shopping are product quality and freshness (90%), delivery fulfillment in time (90%), and delivery speed (90%)
Factors participants are less satisfied with loyalty programs (16%), price (11%), customer support (10%), and delivery speed (10%)
Actively seeking for improvements in product quality (42%), faster delivery (41%), lower minimum order value (40%), lower delivery fee (40%)
Preferred time horizon: 60 minutes (21%) and 30 minutes (15%) and 40 minutes (9%)
Willingness to pay a surcharge for service: Average AED 21.02 and Median AED 15 per order
The study included the research of the main preferences when choosing products and the critical reasons for online shopping. It helped us analyze the local grocery market and understand which features to include in the product.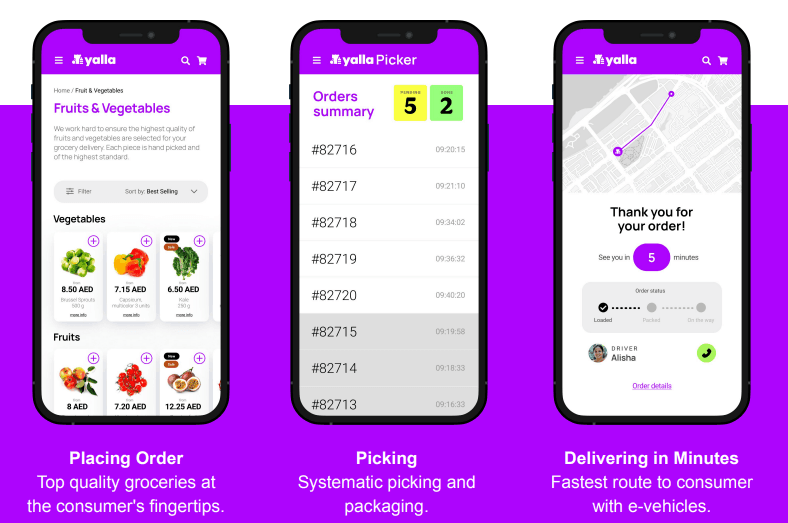 Top 5 preferences when choosing products over another: Quality of Food, Date of Expiry, Special Offers, Lower Price, Brand
Top 5 reasons for online grocery shopping: Saves a lot of time, Available 24/7, More convenient, Great deals and discounts, Delivery speed
Top 5 categories when online grocery shopping: home care, personal care, drinks, fresh vegetables and fruits, dairy
Top 5 competitors when online grocery shopping: Carrefour Online, Noon Daily, Lulu Hypermarket Online, Amazon Grocery, Talabat Mart
We estimated the concentration of customers based on several residential units by bedrooms and the population of Abu Dhabi excluding blue-collar labor. Finally, we estimated the number of customers per food retail branch available in the critical areas of the Abu Dhabi region.
The problem was that consumers struggled to access groceries in a fast and convenient way. And we helped with this problem by creating a reliable product that can deliver essential products available at retail price with a small delivery fee.
Our setup enabled the delivery of groceries in minutes to the customers' doorsteps. We included such integrations:
Mini fulfillment centers are located in densely populated areas with more than 2,000 SKUs, including full-time employed and dedicated pickers and riders.
Fully integrated assortment software ensures we have up-to-date information on SKUs and low out-of-stock rates.
The hyperlocal approach enables speedy deliveries with alternative electrical vehicles, leading to an unforgettable customer experience and positive Word of Mouth.
The product is now operating successfully, delivering confectioneries, groceries, and household essentials from online stores around Dubai's most popular areas.
How to Start a Local Marketplace?
The marketplace is very often a local story. Uber is a global company, but we are still located in a specific place and need Uber in this particular place. Accordingly, marketplaces often start in a specific market, in a specific niche, and a segment that solves a specific issue or problem. So you start with a small business, and only then can you grow.
You can occupy the free niche of marketplaces by choosing a clearly defined target audience. There are still a lot of spheres for the local market. Explore your location and start by creating a website. Choose a custom project or a ready-made solution. A quick and dynamic start will draw the attention of the target audience and potential suppliers of services.
Learn more about different types of eCommerce platforms, how much it costs to build and maintain your eCommerce platform, and things to know while migrating to another platform.
Launching a local marketplace is not so complex if you know the specific process and can identify the basic stages for launching. The startup process may not be limited to these steps, but the key ones include:
Niche, market, competitors, opportunities, and demand analytics
Determining the type of marketplace and monetization model
Preparation of the technical base for the MVP launch
Search for partners
Building operational processes
Read more on our ultimate guide about how to start an eCommerce business, things to consider before, the best eCommerce platforms, and how much does it cost to start an online retail business in 2022.
The initial steps include the interaction with site partners, collection of all necessary data, contracts, formats, and processes for working with payment acceptance, logistics, and so on.
If you feel interested in starting a local marketplace and don't know where to start, let's talk and see how we can grow your business together and attract your customers.