Due to the increased demand for eLearning, the market for virtual learning platforms is growing rapidly. The world eLearning market is expected to reach 325 billion dollars by 2025. There are many options for developing applications that can meet the requirements of your business strategy. Some MVP virtual learning application development tools are more cost-effective, market-ready, and faster to build solutions. Other eLearning app solutions offer more advanced features, technology stacks, and functionality but cost more. In this article, we will research all aspects of building an eLearning platform p from idea to MDP.
Educational app 101: What's important to know about eLearning
E-learning is the process of learning and acquiring skills and competencies online. The ability to create and scale online courses has changed how we think about and access education. This is true for traditional higher education as well, as colleges and universities create more online courses or online resources to augment classroom learning. But e-learning has also created a new type of teacher, as anyone with in-demand skills or knowledge to share can now create a course and take students.
The development of eLearning has led to the creation of new technologies and platforms for learning. Big sites like Skillshare or Udemy allow teachers to run courses and earn a portion of the income. Platforms like Mighty Networks allow the teacher to run the course themselves, giving them more control over their delivery and keeping most of the revenue.
E-learning benefits students and teachers as education becomes more scalable, accessible, and affordable. One of the most significant advantages is the access to the course anytime, anywhere, without ever having to set foot in a classroom. Asynchronous learning means that students can go at their own pace, making e-learning ideal for those trying to improve their skills or who don't have the time or opportunity to take a traditional college course.
Statista shows that the worldwide eLearning market is predicted to reach 243 billion U.S. dollars by the end of 2022 and that 65% of teachers support using open educational resources in their teaching process.
Size of e-learning market in 2014 and 2022
*(in million U.S. dollars) *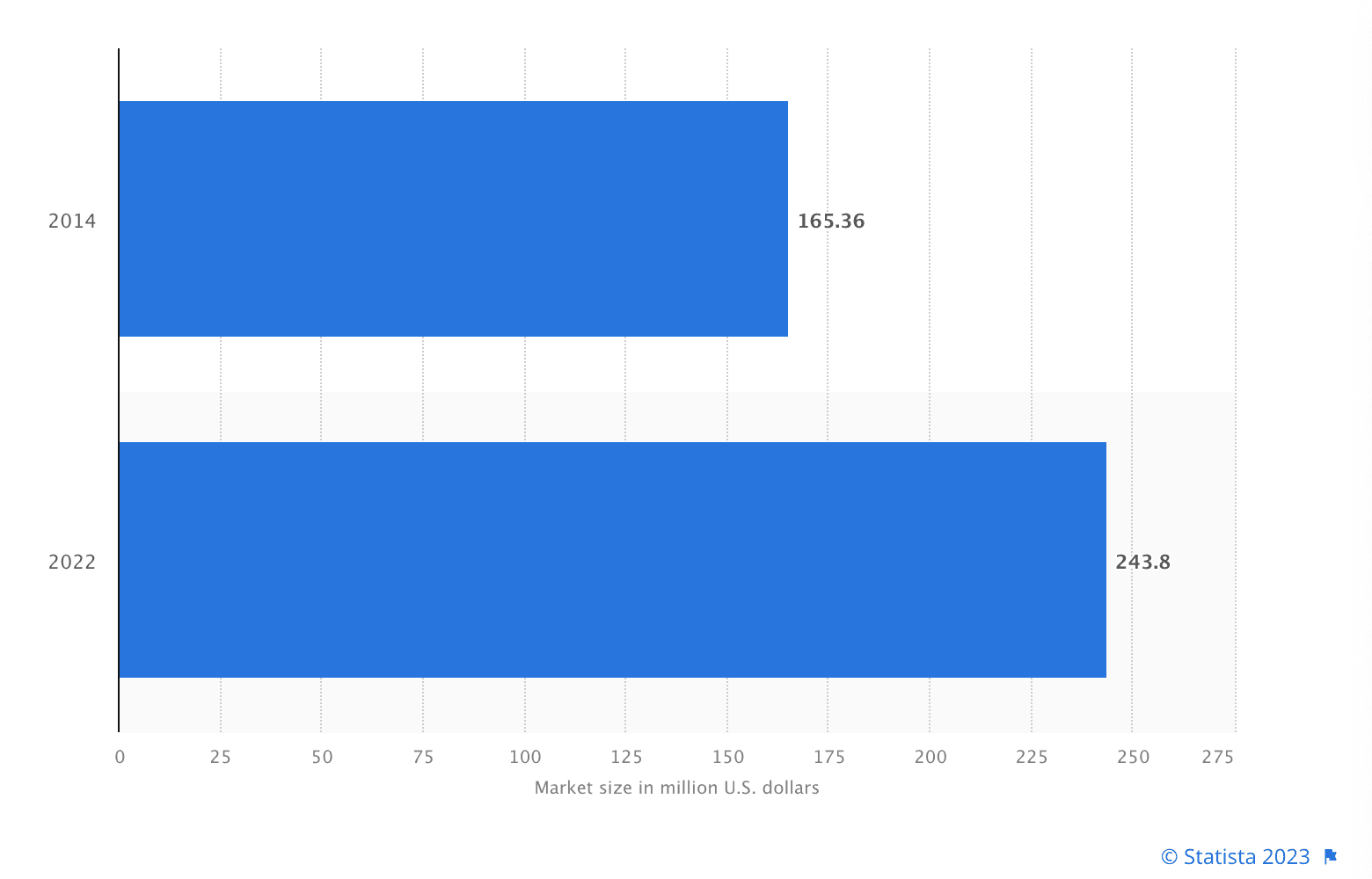 Let's consider all the advantages of Learning:
Flexibility of learning schedule. This option is perfect for an adult working person who does not have the opportunity to attend lectures and receive a standard education. The student can independently choose and adjust the mode of mastering the program and find a comfortable pace with no rush.
Any comfortable place. You can choose any location you like, whether it be your personal office, favorite sofa, workspace, public transport during long trips, or even outdoors in a park or forest in good weather. The ability to change the environment makes studying less burdensome and boring, and it is better to master the material in comfort.
Ease of learning information. Students are offered different ways of presenting the material, and you can choose the most convenient one. Also, if you need help understanding something, you can quickly re-learn as many times as you need to fully understand.
It's easy to get in touch with teachers at almost any time. Chats, various messengers, e-mail, audio or video, forums, and social networks, you can use all modern methods of remote communications to send completed tasks or clarify unclear points.
There is no need to independently search for the necessary materials in methodological literature, works of scientists, etc. Most of the data is provided by teachers, and you can easily find the rest on the Internet.
No need to communicate with others if you don't want or have no ability. The option is suitable for introverts and people with limited physical capabilities. There is no need to contact the teacher and other students personally.
Taking exams in the online testing mode is much more comfortable. This method reduces the degree of anxiety and provides peace.
The students can independently evaluate their knowledge and monitor the dynamics if the eLearning program includes assessments and ratings, which are always available.
eLearning costs less than standard. This is due to the reduction of power, time, and resources. Teachers don't need to travel anywhere; they can work with students from home—no need to search, heat, light the premises, and clean the auditorium.
But let's not forget that eLearning distance learning has some challenges as well:
The lack of direct control by the teaching staff reduces the discipline of students. It is difficult for some students to motivate themselves to work in their free time, and it is difficult for a child.
Only some people can focus on learning information, mainly if it is provided through online broadcasts or video lectures in real time. If a student doesn't hear something, they may miss important points.
Lack of personal contact with the teacher, as well as with other students. Some consider this a disadvantage because sometimes lively and group discussions are exciting and contribute to a more relaxed and, at the same time, effective learning of the material.
Electronic distance learning is not always effective in subjects that require mandatory practice and the application of acquired skills. For example, chemists need to be personally present at practical classes with experiments.
Not always well-deserved grades based on the results of testing. Since no one is watching the students, they can answer questions with someone's help or search for information on the Internet. Because of this, it is problematic to evaluate actual knowledge.
The student needs PC skills, as well as specific technical equipment for communication with the teacher (personal computer or laptop, camera and microphone, and some other devices and accessories).
Elearning applications types
Now that we've learned the advantages and the possible challenges of eLearning, it's time to consider the most popular eLearning app types:
1. Apps for preschoolers
The apps for preschools need to apply a special approach to teaching children of preschool age, as it's essential to include games and entertainment activities combined with the learning material. The custom eLearning app development should consist of many special features to make the apps for kids that look fun and engaging to learn, think and use creative skills while keeping their level of interaction.
2. Apps for teachers
The apps for teachers include several unique features like the opportunity to register an account, create push notifications about learning activities and student logs, manage teacher-student communication, assign tasks, register assignments, administer learning materials, and many others.
3. Apps for adult students
The apps designed for adult students should help provide materials. They need to include features that can help the students to concentrate on their tasks, keep up their motivation and have the ability to track their progress using notifications, reminders, integrations with social media, timetables, quizzes, and so on.
eLearning formats include synchronous e-learning and asynchronous e-learning.
Synchronous e-learning means that all participants are included in the educational process at the same time. This happens when organizing video conferences, consultations, webinars, video lessons, and other telecommunication formats, including several parties' interactions.
Asynchronous e-learning includes education using various multimedia tools, which does not imply synchronous interaction of participants in the educational process. Students use sources of information conveniently and work with them at a comfortable pace. These can be multimedia courses, recorded webinars, electronic textbooks, etc. The students get feedback from the teacher with a temporary delay: by e-mail or instant messengers.
Must-have Features for Educational Application
For an application to be effective, it must clearly understand its goals and objectives. Then it is easy to figure out the features to implement. But educational applications have one thing in common: some of their functions are related and should be included in most cases.
So, there are some must-have features for educational applications:
solid database to cater to the intended purpose
an online diary or student success page;
video-based content;
personal account with statistics, rates, and other data;
tools for adding audio, video, and photo content;
interactive tools for interaction;
Live tutorials and sessions;
multilingual addressed;
assessment system, tests;
monetization tools, if necessary;
gamification;
blog-type pages with information and answers to questions;
pages with educational materials;
a catalog of courses, lessons, and classes that allows you to structure your records;
communication tools with the teacher.
You can choose an individual set of functions for each application. It depends on the cost and the timing of the task. Educational applications have clear goals and objectives. The team of developers can define them together with you and help to implement the project from an idea to a fully functional program.
How EdTech Software Development differs from CRM or eCommerce Development?
EdTech (a combination of "education" and "technology") refers to hardware and software designed to enhance teacher-led learning in classrooms and improve student learning outcomes. EdTech is still in its early stages of development. Still, it shows off as a method of adapting curriculum to a student's ability level by introducing and reinforcing new content at a pace the student can handle.
EdTech creators emphasize the potential for software and technology to expand, freeing the teacher to move into the role of facilitator. Due to time constraints, it is difficult for the teacher to teach the curriculum, catch up with lower-level students, and simultaneously keep up the learning process. EdTech can lead to better outcomes for individual students and the classroom by automating ability assessment and difficulty adjustments.
CRM technology is used for eLearning to manage all learning relationships between teachers and students. It is designed to optimize your business processes. Therefore, the CRM system allows you to constantly maintain contact, accelerate the resolution of work tasks and increase profits. Moreover, it greatly increases customer trust and helps provide users with qualified support at any stage of their work.
You can't do without a CRM if your ultimate goal is to grow your profits. Why? To answer this question, it is worth considering some of its main advantages:
High level of work organization
It is a convenient solution for managing the user base and storing information about relationships and deals you can get at any time.

Service optimization
CRM structures users' data to get a clearer picture of their interests and needs, allowing you to solve their problems faster. In this way, you improve the users' relationship, receiving their loyalty.

Personalized communication
Personal user data obtained through CRM allows you to segment your contact base and develop an individual approach to each of them. For example, you can personalize your emails, content, and offers.

Reducing customer churn
This will help you identify the pain points of your app in more detail and offer practical solutions that will increase the effectiveness of customer retention by up to 27%.

Automation of machines
Most CRMs allow you to automate specific tasks. It significantly saves your time and increases productivity.

Increase conversion
Structured information about leads collected on one platform, marketing automation, monitoring, and detailed statistics of all sales campaigns do their job: you can increase conversion by 300%.
There are numerous options of CRM for eLearning application development, like Full Fabric, Salesforce Education Cloud, Hubspot, Oracle NetSuite CRM, LeadSquared, Freshworks CRM, Zoho, Kapture CRM. Choosing the right platform depends on the features you will use. Besides, it would help to get an idea of your business and users.
Which technologies to choose for my Educational App
When you have a clear idea of ​​your future eLearning app and know what features to include, it's time to choose software development technologies to bring the concept to life. Fortunately, the software development market offers many internal and external development tools to create an efficient and reliable eLearning environment. On the other hand, to create a digital solution in less time and provide the best value for money.
An experienced team of professional software developers will help you:
Choose a robust technology stack for your eLearning solution and complement your application with the latest technical innovations, such as AI for deep analytics, blockchain for enhanced security, big data for efficient data processing, VR/AR solutions for visual and engaging learning, and more;
Before deciding on a tech stack for your app, compare numerous languages, like Python, PHP, and Ruby. The platforms are essential for iOS and Android for eLearning mobile app development.
Develop seamless integration with other software based on LMS, API, or pre-designed integrations
Create an effective minimum viable product (MVP), test your idea in practice, and collect valuable feedback from users for further development of the product
Since the app's visibility is essential, you should ensure that front-end development looks engaging for the users. For the layouts, hire a UI/UX designer.
When determining the technologies, time and resources needed for the three aspects play a significant role.
The complexity and possibilities of the future application. If the platform contains only basic functionality, its development price will be lower. When it comes to adding a variety of features, such as interactive, audio, or video, it adds to the cost and time.
A number of platforms. If the application is developed only for Android or iOS, it determines the cost and the technologies. When you need to create a product for multiple platforms, its price will increase.
The number of the development team. This aspect is directly related to the complexity of the application. The more complex the program, the more skilled specialists will be required.
Best eLearning app examples on the Market
There are many free eLearning applications that you can find on the Internet. If you have ever wanted to learn a new language or develop your mathematical skills, you can effortlessly search for a specific app. Here is a short list of free apps that every lifelong learner should try.
EdApp is the best eLearning management system that uses fun and effective micro-learning directly to learners anytime. It has cutting-edge aspects backed by science, such as elements of gamification and spaced repetition. You will not only learn but also have a great time.
To lock in essential information into long-term memory, EdApp integrates the Spaced Repetition strategy with an automated quiz system called Brain Boost. This feature automatically extracts questions from your lessons and creates individual quizzes for each student to test what information they remember. The more correct answers they get, the less often they will be checked in a particular lesson. This strategy allows you to reinforce key learning concepts for better knowledge retention.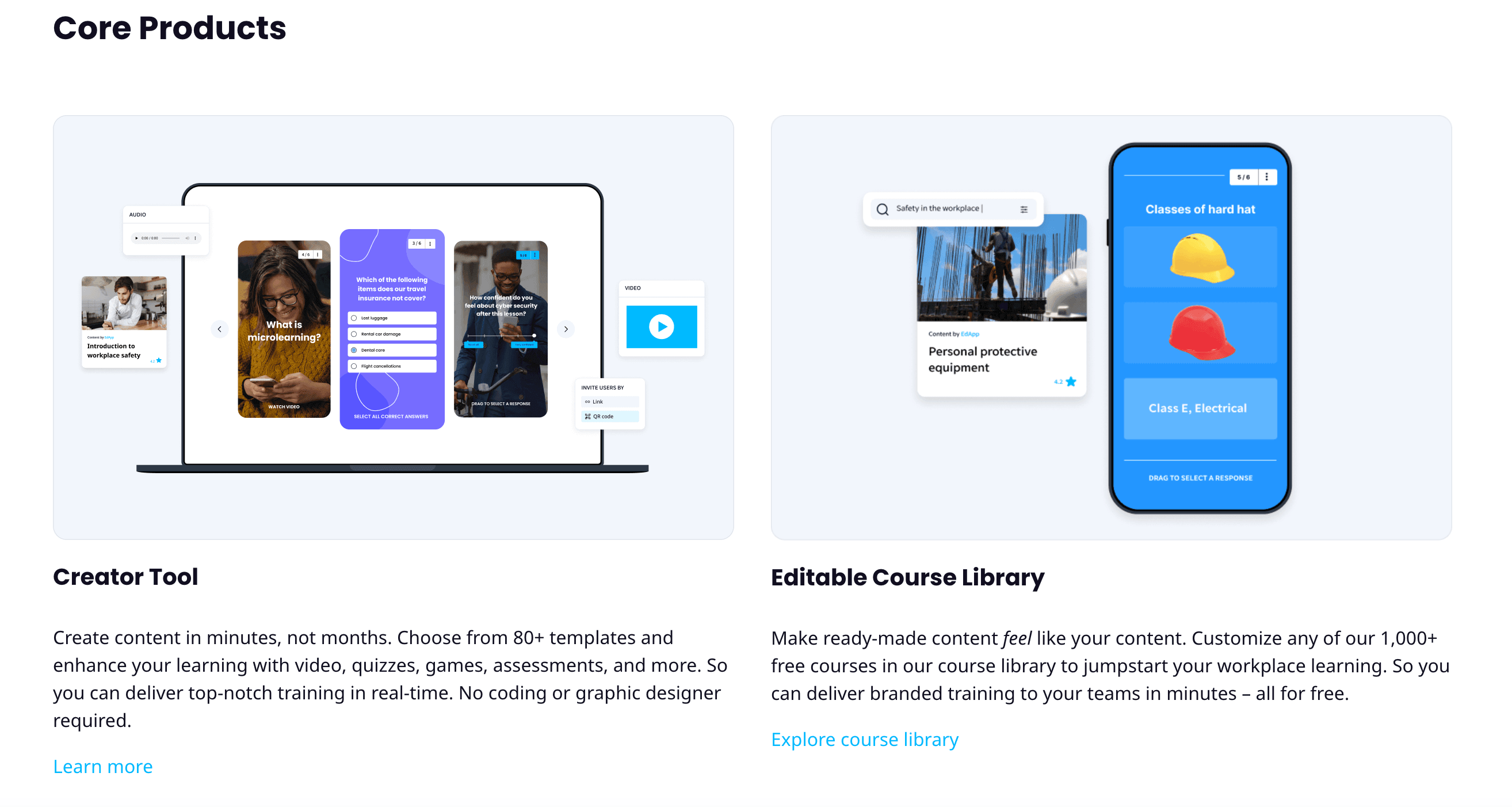 Google Classroom is a free platform for organizing work with groups. It is enough to have a mailbox on Google. The platform interface is very convenient and straightforward, so there will be no difficulties in getting to know the functions. The procedure for creating a class is simple. Once you've done this, you'll be able to:
– easily download materials for your students (didactic, practical, textbooks, tasks, photos, and video materials)
– provide tasks
– in the "Tasks" tab, you can group your notes/documents and textbooks by topic, as well as arrange them in a convenient order
– students will be able to perform these tasks, and the teacher will have the opportunity to monitor completed tasks and evaluate them
– the teacher can leave comments regarding the students' completed homework
– you will be able to communicate with the whole class

Moodle is one of the most famous platforms that allow you to organize coordinated online learning. It is widely used by many higher and secondary education institutions because it is an excellent assistant in the complex organization of distance school education. Here are the essential features of the app:
– the teacher can easily create content to teach the class/group at the university remotely or simply a group of students who came to a course
– it is convenient to manage the created content
– it is possible to publish materials in various formats: audio, video, text, and presentations
you can give access to posted materials to specific groups or individuals, which is very convenient in the organization of differentiated education

ClassDojo is one of the popular services teachers use to organize an eLesson.
Classdojo is most suitable for the organization of remote learning for junior and high school students because everything is designed brightly and creatively, with the use of animation. The following functions are available on the platform:
– The ability to quickly contact parents
– The ability to easily send messages to a group of students or each student individually
– The ability to track how the student work, the evaluation by other teachers, and their progress
– The student's grades are duplicated in his parents' account, which makes it possible to monitor academic performance
– There is a journal for grades
Building an eLearning Platform in a Reasonable Time
Developing a high-quality educational product within the eLearning framework is impossible without a clearly defined program. The use of modern technologies should provide constant feedback from consumers and improvement of certain functions.
The customer sets a problem, a task for the developers. It is important to understand what result you need to achieve. And then decide how to do it. For example, there is a request to create a training program on using new equipment. The volume of information may be smaller, and its content not so complex that you should invest more resources in developing an entire program. A video tutorial or a small checklist describing the fundamental updates is enough.
First, you must decide on its main parameters: model, structure, functions, etc. Then choose the best tools for implementation. There are no patterns when developing e-learning resources. Each development team generates and implements its ideas depending on the working style and the customer's request.
The most common logic for building an online training course is "Tell → Test". The learners receive a specific block of information to study and then check their knowledge by testing. Another model, "Test → Tell," is considered more progressive. First, you diagnose the level of knowledge on the topic and then give the training material in the required volume, mainly in the form of presentations, videos, etc.
A common model for building an eLearning course looks like this: Context, Challenge, Activity, Feedback (CCAF)
Context Form a situational need for obtaining specific knowledge and skills, and give an example of the successful application.
Stimulus (call) Create a need to solve the problem (for example, gaining knowledge through online learning) to ensure security and reduce possible risks.
Action The eLearning process should be built on the principles of student activity. Motivation and interest are formed through the inclusion and importance of participants in the process. It is essential to remember the use of different types of tasks and forms of control.
Feedback It is a demonstration of the result of actions. It can be external and internal. External feedback assesses the answer according to the criterion of correct/incorrect. Internal feedback implies that the teacher shows the student the consequences of the wrong actions. It plays a more critical role, as it forms a deep motivation for learning, not for the formal completion of the course and getting grades.
The result of the completed online course should be low results of the final test, but the application of new competencies in life. The practical value of the course should be maintained at the app development level. The creators of the learning platforms are designing a 2+2+2 formula reminder function, that is, modules for repetition are automatically sent after two days, two weeks and two months. Nothing limits the user in terms of consolidating knowledge.
Conclusion
Knowledge has long become a valuable commodity and the most important working tool. It is beneficial that, thanks to modern technologies, basic useful information can always be at hand. In the smartphone's memory, you can store hundreds of volumes of reference literature, instructions, etc.
The type of eLearning application you create determines how the application design works best for your users. The more user-friendly your virtual learning app is, the more opportunities you have to monetize its features. The ability of your programming team to create successful virtual learning applications is just as important.
If you want to build an eLearning platform, you will need a team of reliable developers who can facilitate the process of creating a product and save your development budget. The RabbitPeppers team can help you learn how to successfully build such an app and consult you with any questions regarding your eLearning business.