Creating a convenient and fully functional retail space is impossible without a set of retail equipment, which in turn forms a POS system. The POS system is an essential tool for business, including customer service. It makes selling efficient and straightforward and also facilitates business management. One of the main drivers of the market is the growing demand for contactless and non-cash payments. The retail industry will be expected to dominate the market until 2027 as the main user of POS systems.
With POS software, your business will be more productive. Our article will explain the advantages of the systems, key features, different types, and how to choose POS systems for different business areas.
How Does the POS System Work?
A point of sale (POS) is a business system to manage sales transactions. In the past, a POS in a shop would have been a big cash register and a ledger to record purchases and sales. The POS system is an ideal choice for all types of customer service, including restaurants, retail stores, online stores, and hotels.
POS solutions today automate the entire movement of goods in the store: from receipt to sale to the buyer. They are designed to perform several basic tasks:
accept payments
provide sales analytics
manage inventory
collect customer data
All POS systems are equipped with software that meets modern security standards. The software transmits information from the terminal to the system and vice versa. In the case of software replacement, it automatically changes on all elements since it does not require reinstallation on each device separately.
Key Features to Look For
One of the most critical components of the system is the cash program. This software is selected specifically for a particular business area, taking into account some specific needs and features. The equipment will not work without the program. A complete POS system's hardware components may vary, but standard ones are inherent in almost all programs:
POS-terminal
Display
Barcode scanner
Signature Capture Device
System unit
POS monitor
Receipt printer
Cash drawer
Network devices
POS keyboard
Label printers
Currency detector
Magnetic plastic card reader
Cash register software can generate reports by collecting information about the number and level of sales, evaluating them, and analyzing them. The program already contains the primary forms of reports, but you can customize this section at your own discretion by adding necessary items.
A POS-terminal or card reader is required to work with bank cards. For the device, speed is essential when performing operations and safety.
A barcode scanner is required to read product labels. The more complex the device, the more different types of barcodes it will be able to recognize. Respectively, employees will not need to enter data manually.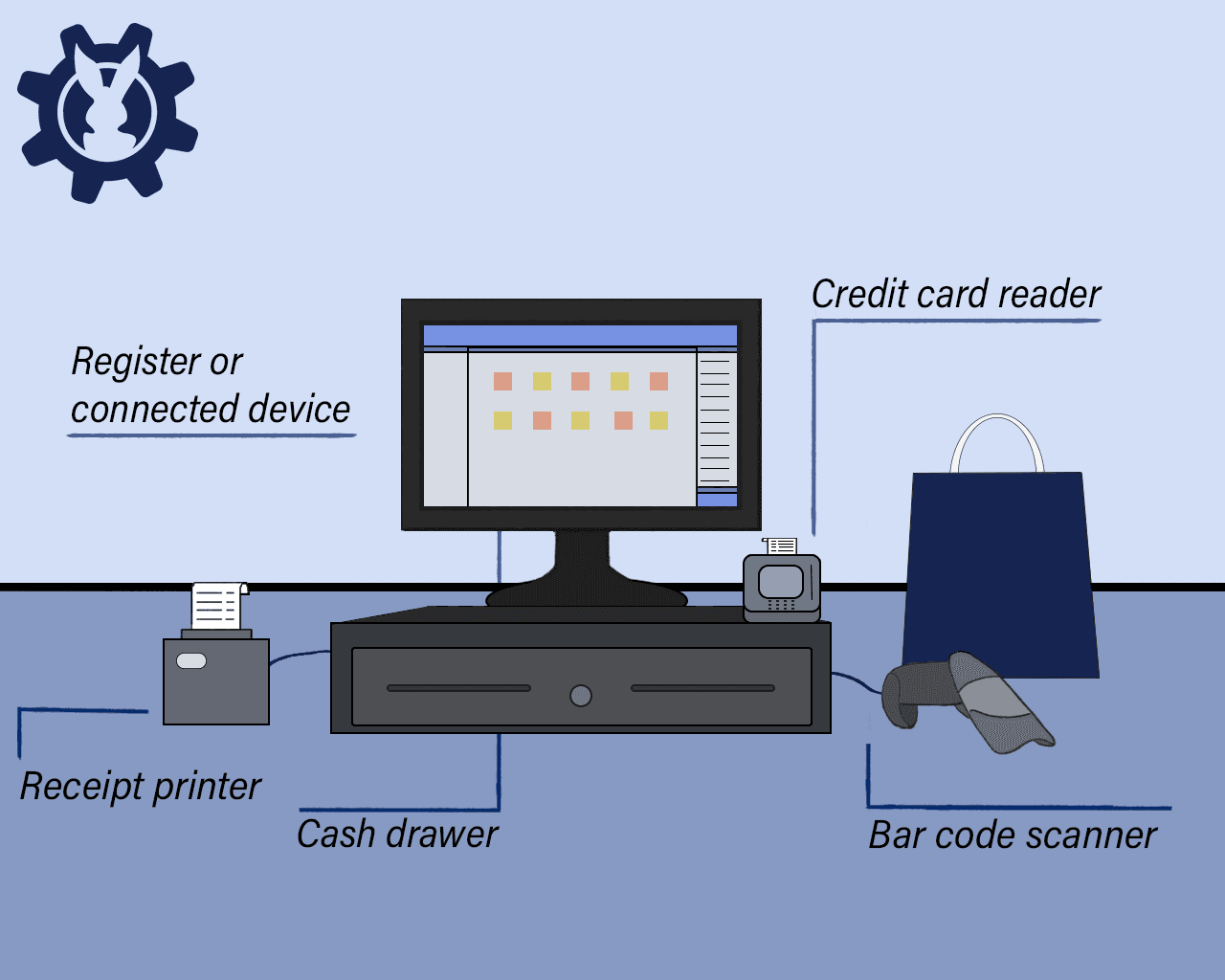 The software is based on computer technology. This feature lets you implement POS in several terminals connected to a network in the same space or different stores.
One of the significant advantages of POS terminals is the ability to adapt to the needs of each business. These may include, for example, touch screens, barcode scanners, and printers. There are also various programs for programming a system to respond to specific problems.
Advantages of the POS System
The modern POS system increases purchase volume and comparable sales. In addition, retailers face the challenge of creating an efficient checkout process, minimizing wait times, increasing productivity, and reducing operating costs to ensure business profitability across all channels. A POS system is a key element of an omnichannel customer experience in modern retail.
The POS system must be properly integrated with accounting and management tools. Business owners use the POS system to analyze the history of sales, costs, flows, and business profitability. Thanks to additional functionalities, the system facilitates management: fast updating of the prices, contractor, base, or inventory module. Let's see what other advantages the system offers.
Ease of use - POS systems operations are fast and intuitive
Data entry speed - POS systems support, among other things, reading barcodes, which makes data entry efficient and trouble-free
Effective updating of information about goods, services, and prices - changes in descriptions or product prices are possible in a few clicks
Wide configuration parameters
Support for different sales channels/business models - many POS systems to adapt to the specifics of a particular business
Security - the depreciation of the human factor eliminates the risk of mistakes, and the risk of abuse by staff is also reduced
Customer loyalty - by integrating POS systems with CRM software, companies can track customer loyalty based on their purchases
Built-in payment mechanisms - for example, automatic VAT calculation
ERP software - by integrating your POS system with ERP (enterprise resource planning) software, businesses and customers benefit; you can get broader supply management and more efficient inventory monitoring
E-commerce applications will help keep track of customers, no matter their location, which results in a smoother shopping experience and high customer satisfaction.
Business integration - different types of businesses have different needs; note that integrations work differently in different ways. We have already talked about integration with the restaurant business.
In addition to the benefits that the POS system provides to business owners, it also improves customer service. The perfect POS system will help you know your stock well and prepare you to provide customers with what they need so you can focus on exactly the products they are looking for. The accelerated transaction process reduces the waiting time of your customers. Your business can focus more on solving all kinds of customer problems. To sum up, POS is designed with the sole purpose of making business easier and better.
Types of POS Systems
There are two main types of POS systems: local and cloud-based.
The local POS systems are designed to work in the internal network. The information is stored on local disks. Therefore, the store owner needs to have a particular server where all the information will be located.
Such systems are outdated and expensive, as the program and its maintenance cost a lot. In addition, you need to buy more servers and equipment and pay for specialists if something stops working.
The disadvantage of local systems may be restrictions on the choice of equipment. Often, fixed systems are installed only on computer devices. You will also need to allocate space to install the server and monitor its security: the hard drive can be broken, removed, or damaged.
The cloud-based POS systems contain all data and information stored on the server of the POS solution provider. So it can be accessed through a browser.
The cloud system is compact, inexpensive, and easy to install. You do not need servers because all data is stored encrypted on trusted servers.
Another plus of the cloud automation program is that you don't have to invest much money to buy the system. Many services have long been working on a subscription model, where you have monthly payments, which is very convenient. It is even better when you can pay for the program for a longer period, for example, a year, and at the same time save a lot by getting a discount.
The main difference between the local POS and cloud-based POS
| Features | Local POS | CLoud-based POS |
| --- | --- | --- |
| Data storage | Stores data in a database located on the store premise | Stores data in the cloud |
| Vulnerability of data | vulnerable to attacks | relatively safe |
| Accessibility of data | through hardware | by any computer device connected to the internet |
| Updates | manually | automatically |
| Cost of maintenance | high upfront cost but low maintenance cost | low upfront cost but can be monthly subscription |
Choosing POS systems for Different Business Areas
How to choose the right POS system? It depends on the scope of the business, the number of visitors, and other factors. Here are some main things that may help you narrow your search:
Retail stores require quite a lot of functionality since they sell many different products, including different discounts, a need to make returns and generate reports. You must have a barcode scanner, a card terminal, and a fiscal registrar. It is better to choose a scanner with a visual search for goods - this will facilitate the work of the cashier.
In restaurants or hotels, the software may be different. The software must have the function of order processing and adding it to the waiting list until the moment of payment. Also, in the restaurant, it is necessary to consider the planned and actual cost of the ingredients. The program should work with various gifts and bonuses and include additional information about the client's address on the check if the restaurant has a delivery service.
If we talk about a small cafe or bar with little space behind the counter, the POS system should be mobile. Mobile systems are also suitable for the business of traveling trade.
When choosing a system, you also need to decide on the following questions:
Take into account the features of the goods or services offered, whether it will be wholesale or retail. Decide if it is business for business (B2B) or business for clients (B2C).
The number of planned operations per day determines the required capacity. Calculating the total number of cash desks and whether they will be connected within one system is necessary.
Will it be one outlet, or is it planned to open a network of establishments.
Will you need to connect with other programs - accounting or others.
By 2025, 80% of all enterprise workloads are predicted to move to the cloud. In this regard, many retailers are looking to adopt cloud strategies to meet the needs of employees and customers.
Cloud solutions eliminate installing, monitoring, patching, and upgrading software. It frees up IT resources for more valuable tasks and allows retailers to focus on business processes and innovation. In our next article, we will explain how to build POS systems in 2022.
If you feel interested to know more about the POS systems, let's talk and see how we can grow your business together and attract your customers.